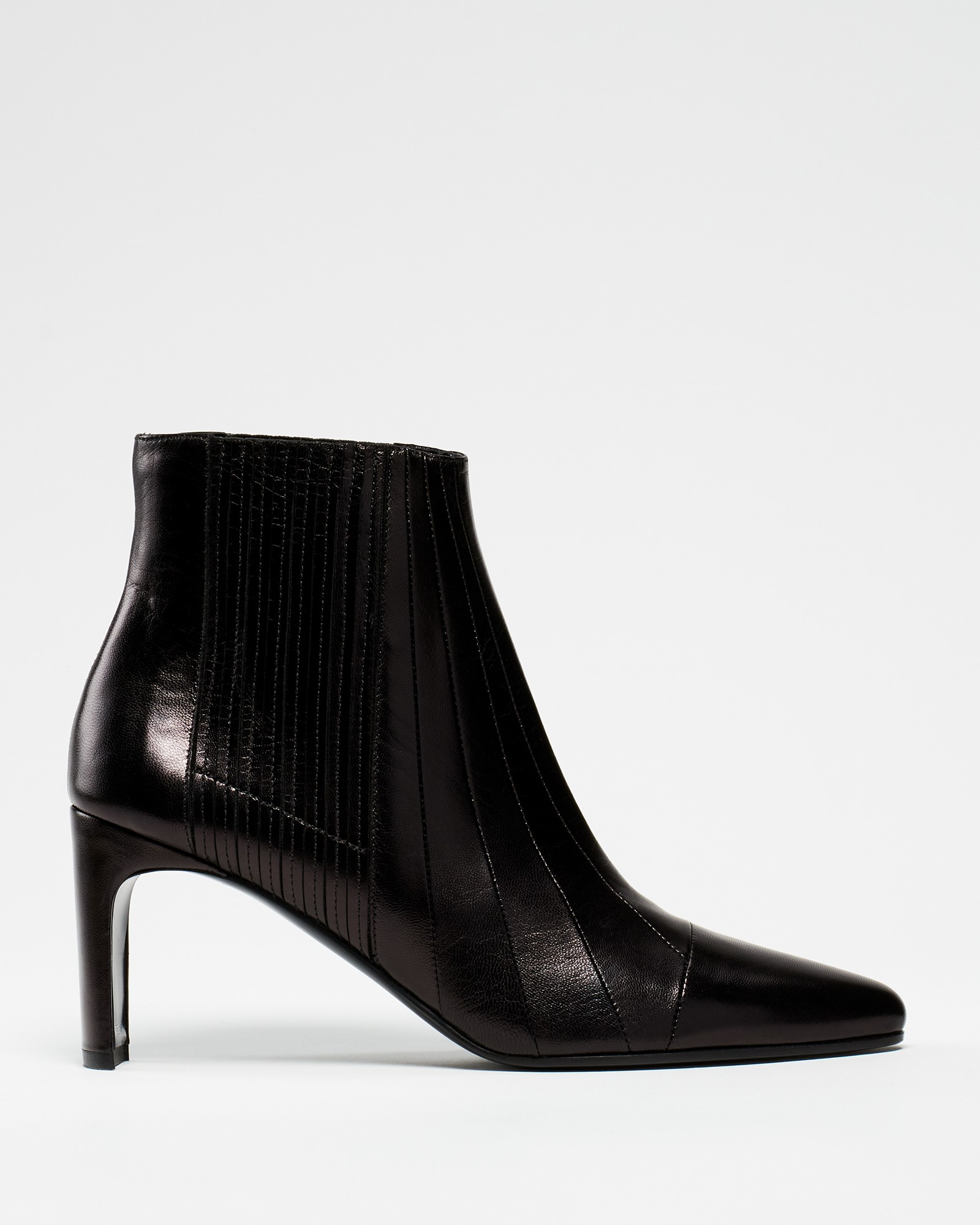  
Auburn
The shoes of the house Vivien are made of delicate materials and chosen with care. Our range of leather from the finest tanneries can contain various natural elements that make your pair of shoes a unique model (our skins are very little covered, they are not corrected. It is normal for the veins of the skin to be visible and that the colors may vary from the visual presented). These natural elements are not imperfections and acquire a patina over time to bring out all the beauty of the leather.
We recommend that you waterproof your shoes before wearing them.
Suede goat leather & suede calfskin
Delicate leather, we do not recommend wearing them in the rain.
Use a soft crepe brush and a renovator that unstain, protects and revives if needed.
Smooth goat leather & smooth calfskin
Delicate leather, we advise you to wax them with a shoe polish of the same color (and not transparent) immediately after purchase.
Using a soft, dry cloth, use a cleansing milk that cleans and nourishes
Nappa sheep leather
Soft and fragile leather. We advise you to take the greatest care to avoid any impact with this material.
Using a soft, dry cloth, use a cleansing milk that cleans and nourishes.
Patent leather
Our patent leathers are goat and calf leathers. Using a rag, use a shoe polish oil that cleans, nourishes, protects and shines the leather.
Satin
Use a soft cloth with lukewarm water.
Python / Water Snake
Use a colorless reptile renovator. It cleanses and revives exotic skin.
| Pointure UK | Pointure FR | Pointure US |
| --- | --- | --- |
| 2,5 | 35 | 4 |
| 3 | 35,5 | 4,5 |
| 3,5 | 36 | 5 |
| 4 | 36,5 | 5,5 |
| 4 | 37 | 5,5 |
| 4,5 | 37,5 | 6 |
| 5 | 38 | 6,5 |
| 5,5 | 38,5 | 7 |
| 5,5 | 39 | 7,5 |
| 6 | 39,5 | 7,5 |
| 6,5 | 40 | 8 |
| 7 | 40,5 | 8,5 |
| 7,5 | 41 | 9 |
We wish to inform our friendly customers that we accept returns within 14 days of receipt of the product. Beyond this period, returns will be refused. Each return will be made at the expense of the customer, and will be accepted only if the product is not damaged (stains, traces of trying on the sole). In the event that all of these conditions are met, we will issue a refund within 14 days.
Nous tenons à vous informer que Michel Vivien sélectionne des peaux de haute qualité. Chaque paire est unique et peut présenter des variations de couleurs. En effet, la présence de légères marques et veines ne sont pas considérées comme des imperfections, étant l'état naturel de la peau.
Afin de garantir la longévité du produit, nous conseillons de le garder dans les pochons à l'intérieur de la boîte, d'éviter le contact avec l'eau, la chaleur et le soleil, tous produits gras et cosmétiques. De plus, des transferts de couleurs peuvent avoir lieu avec des couleurs foncées en présence de vêtements de couleurs claires. Si votre paire venait à être en contact avec de l'eau, nous vous conseillons de les sécher immédiatement avec un chiffon doux et sec.
Specific References
ean13

3701409327268